Dear Staff, Friends and Families of District 197,
I don't know about you but I am missing snow! Our district has a rare two-week winter break for students ahead of us. Normally I'd be looking forward to taking a few of those days off and getting in some cross-country skiing, but it is not looking as likely as it normally would.
Still, I refuse to let this unusual Minnesota winter get me down. My husband and I are looking forward to his parents from Colorado Springs visiting next week, and with all there is to do around the metro, we are not in need of options. We also like hanging around the house watching movies and putting together the annual jigsaw puzzle.
I like that things slow down enough on break to sleep in a little longer and have one more cup of coffee before jetting out of the house for work or an errand, which is far and away too often my modus operandi. I hope you also will take special advantage of having a bit of extra time to spend with your kids and other friends and loved ones. They need us, and we need them.
We all work hard and are pulled in many directions by modern living. We need to be sure to take time to just
be
, and not always
be busy.
It's hard. Americans are an ambitious lot, and we pack a great many things into a day. Just ask me. Just ask your best friend, your neighbor. We all are "SO BUSY!"
But we have to ask ourselves, what are we so busy doing? Are we spending precious time on things that matter? Mahatma Gandhi said, "My life is my message." May I urge you today to ask yourself, what is your message to those whom you love? Better yet, ask them, what is the message they hear? Would it surprise you?
See you all again soon in January ~
Nancy Allen-Mastro
Superintendent
Follow me on Twitter @Supt197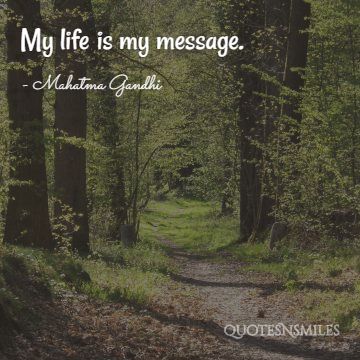 Image from Quotesandsmiles.com